The world of payments is changing, and successful businesses must navigate the challenges posed by digital disruption, evolving technology and the need to maintain customer loyalty in the face of growing competition. In this difficult environment, meeting customers' needs is more important than ever. Here's how OTT Pay is driving innovation to create a new and unique payment ecosystem that will keep your business ahead of the pack.
All-in-one payment solution
At the heart of OTT Pay's value-added services and products is an all-in-one payment solution optimized to accept payments through the leading Chinese mobile payment platforms: WeChat Pay, Alipay and UnionPay QR code. These popular platforms let Chinese shoppers pay for goods and services by scanning QR codes with their smartphones – payment is automatically deducted from their bank accounts.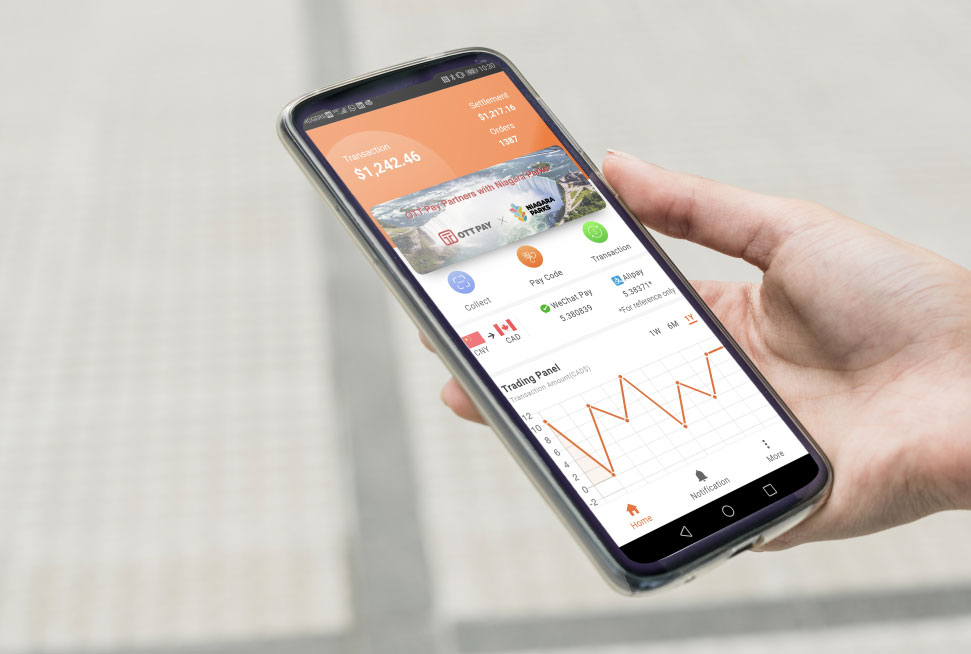 OTT Pay phone app
Have you ever wanted to take payments outside your store? Are you wondering how to keep track of your stores and employees' performance? With our OTT Pay phone app, you're no longer tied to a fixed POS. Instead, you can process WeChat Pay, Alipay and UnionPay QR code payments anytime, anywhere, and real-time transaction tracking lets you see the instant a payment is received. But the app does more than payments – its customized reporting features also give you insight into your business, letting you track store and employee performance and grow sales.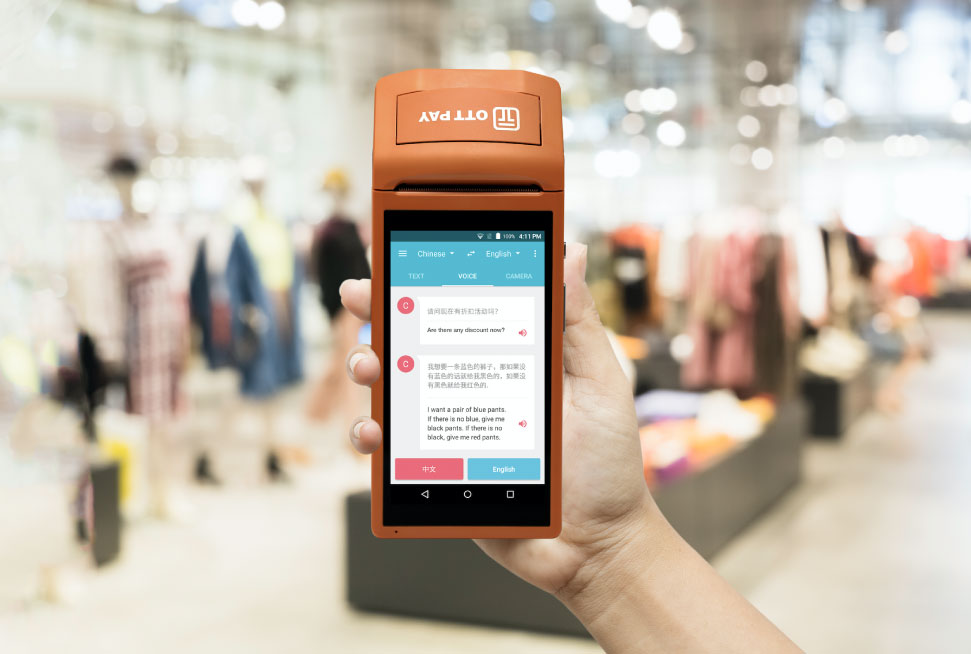 POS translation app
For many Canadian businesses, Chinese tourists, international students and new immigrants represent a real opportunity for growth, and our POS translation app make frustrating language difficulties a thing of the past. Customers simply type text in their own language, speak into the POS microphone, or scan a text that needs translation. And since the app works with 130 major languages, you'll be able to communicate easily with all your customers, no matter where they're from.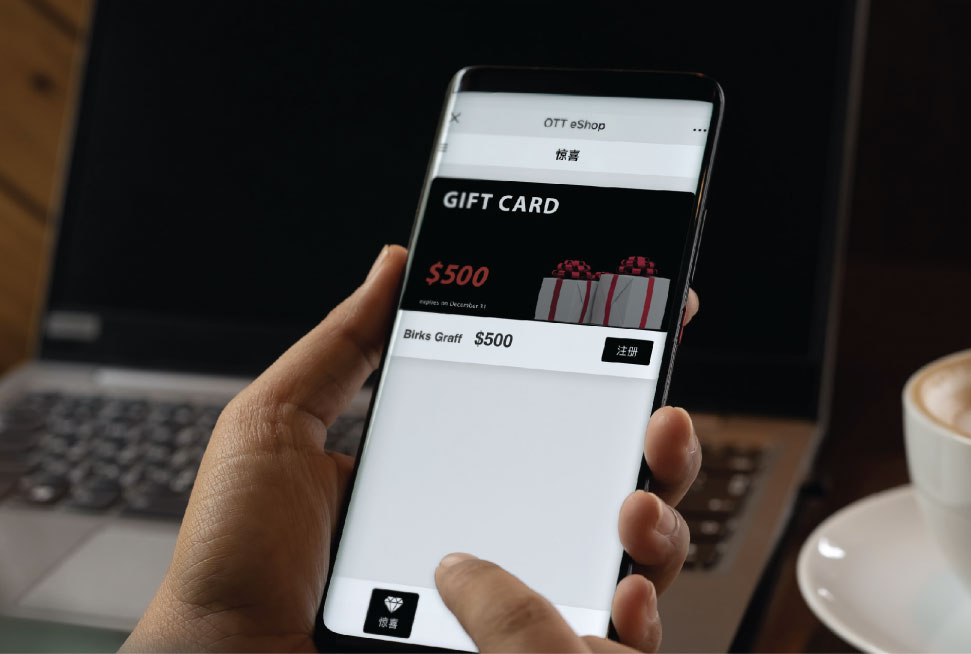 Digital gift cards
Repeat customers are one of the key drivers of sales growth, and one of the best ways to build customer loyalty is with gift cards. Don't let the costs of physical cards hold your business back: OTT Pay's digital gift cards let you boost customer loyalty and increase brand awareness, all with no extra production or delivery costs. Once you've uploaded your digital cards to our platform, customers can purchase cards, redeem them in your store, and reload funds, all using their smartphones and your POS terminal – it's that easy.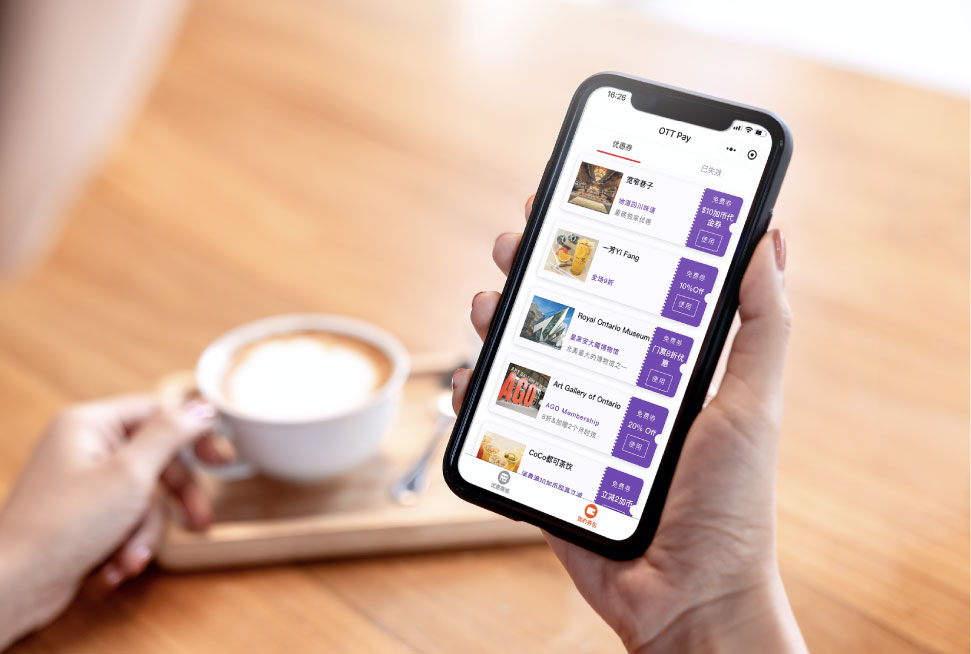 Loyalty and coupons
Offering coupons and special deals for your customers using our loyalty and coupon mini program is another great way to build satisfied customers and drive sales. Haven't heard of our exclusive mini program yet? It's perfect for businesses that want to issue coupons to our registered consumer base. It provides exclusive discounts to a variety of products and services . How do they work? When OTT Pay puts merchant coupons in the mini program, consumers using WeChat see them and click on the offer to add the coupon to their WeChat eWallet. When they make a purchase at your store, the coupon is automatically applied. It's streamlined and simple!
OTT Pay does more than payments – we're constantly looking for new and innovative solutions that can help your business take advantage of the growing Chinese consumer market in Canada.
Ready to get started? Contact us today at customer.experience@ott.ca or give us a call at 1-800-688-9838.