Guangzhou, April 17, 2017 – OTT Financial Inc. (OTT Pay), a Canadian financial services company, announced today that its payment platform, OTT Pay, has officially signed a cooperation agreement with Tencent Payment Technology Co., Ltd. (Tencent), to provide WeChat Pay services for Chinese visitors in Canada.
The Honourable Michael Chan, Ontario Minister of International Trade, witnessed the signing ceremony and expressed his congratulations to both parties. Mr. Chan anticipates the cooperation to create new business opportunities, bring convenience to Chinese visitors, and make contributions to the economic growth of Ontario and Canada.
"Our Government values its mutually beneficial relationship with our second largest trading partner, China," said Michael Chan, Ontario's Minister of International Trade. "Today's signing between Ontario-based OTT Financial and Tencent builds on that strong foundation by bringing Canadian retailers and Chinese visitors to Canada closer together through technology. This agreement also positions Ontario as a premier destination for Chinese tourists, and more specifically, one that boasts greater convenience and accessibility for them."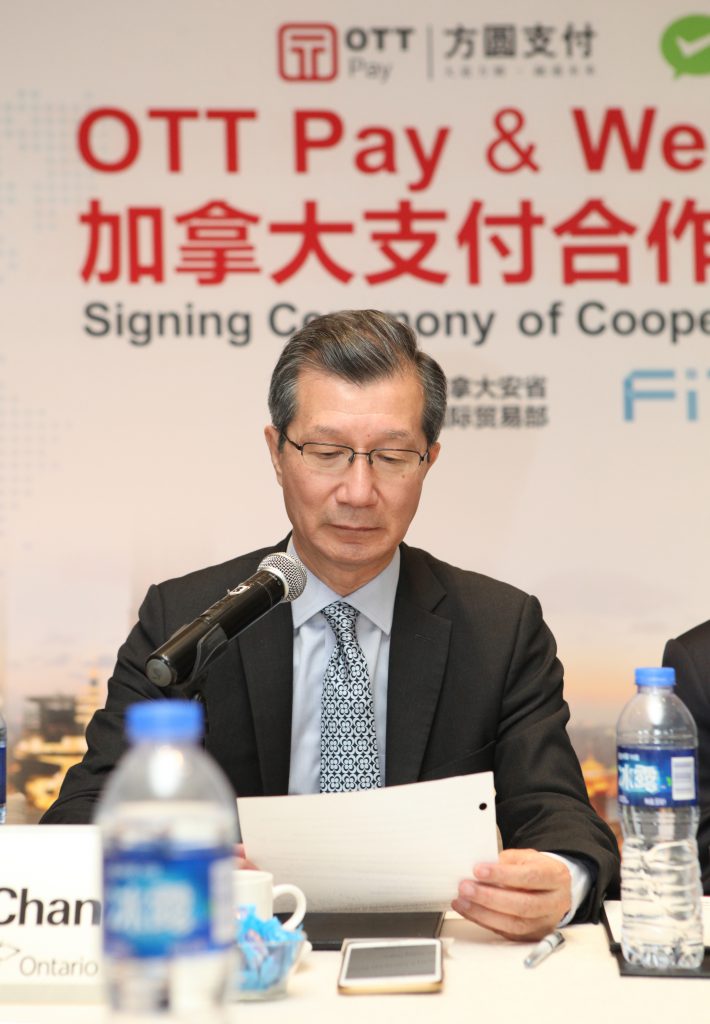 Michael Chan, Ontario Minister of International Trade
Launched in 2013, WeChat Pay provides fast and reliable payment services to users and has rapidly become one of the most popular mobile payment services in China. WeChat Pay enables both traditional and online Canadian businesses from all sectors to maximize the opportunity with an easy-to-adopt, fully integrated cross-border payment solution. With a simple user interface, users benefit from this quick, in-app, web-based, QR code payment tool to make purchases in China in RMB or overseas in foreign currencies. Purchases made overseas are converted and settled by the WeChat users in RMB for an easy and transparent shopping experience.
With this partnership, OTT Pay will enable Chinese visitors to use their WeChat e-wallets to pay for Canadian products and services in Chinese RMB, just as they do in China. To Canadian merchants, OTT Pay will integrate seamlessly into their existing point of sale (POS) workflows both online and in-store. Canadian merchants can operate as they normally would, both selling and receiving payments in Canadian Dollars. Moreover, with the support of WeChat, OTT Pay can assist Canadian merchants to promote their branding and awareness to Chinese consumers and therefore boost their sales.
"We are proud to be building a new bridge connecting Canadian merchants and Chinese consumers." said Kevin Zhang, President of OTT Financial Group, "By working with OTT Pay, Canadian merchants can easily reach Chinese consumers and Chinese consumers will benefit from their ability to pay in Chinese RMB through their existing WeChat e-wallets. China is Canada's third-largest overseas market for tourists, and Chinese visitors contribute over $1 billion annually to Canada's economy. We expect our services to add value to all users."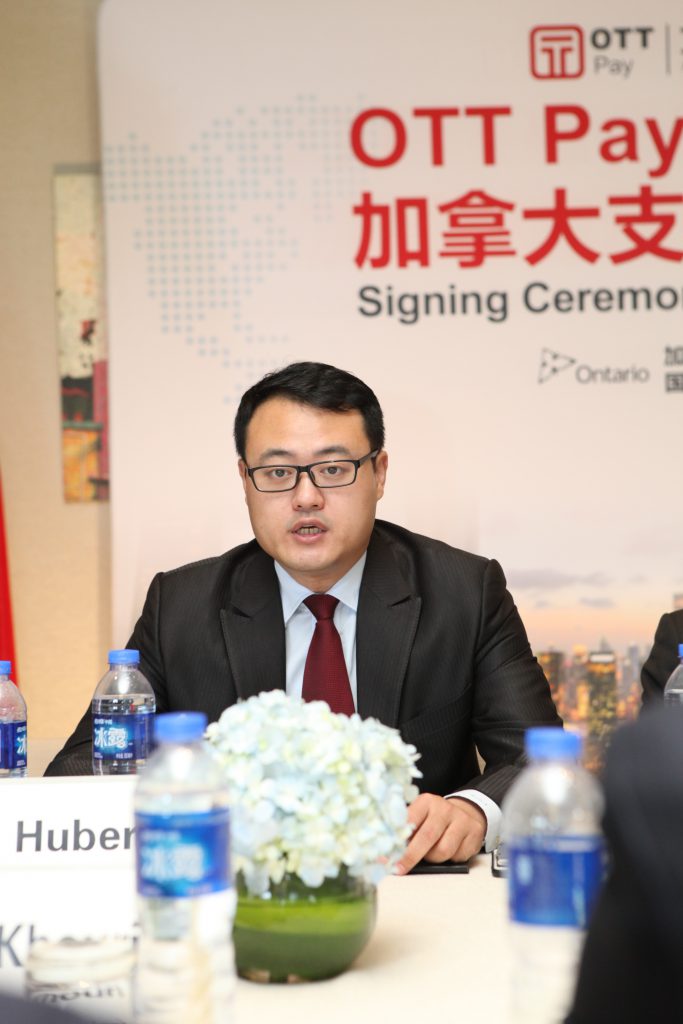 Hubert Xia, Tencent Financial Technology Group Senior Director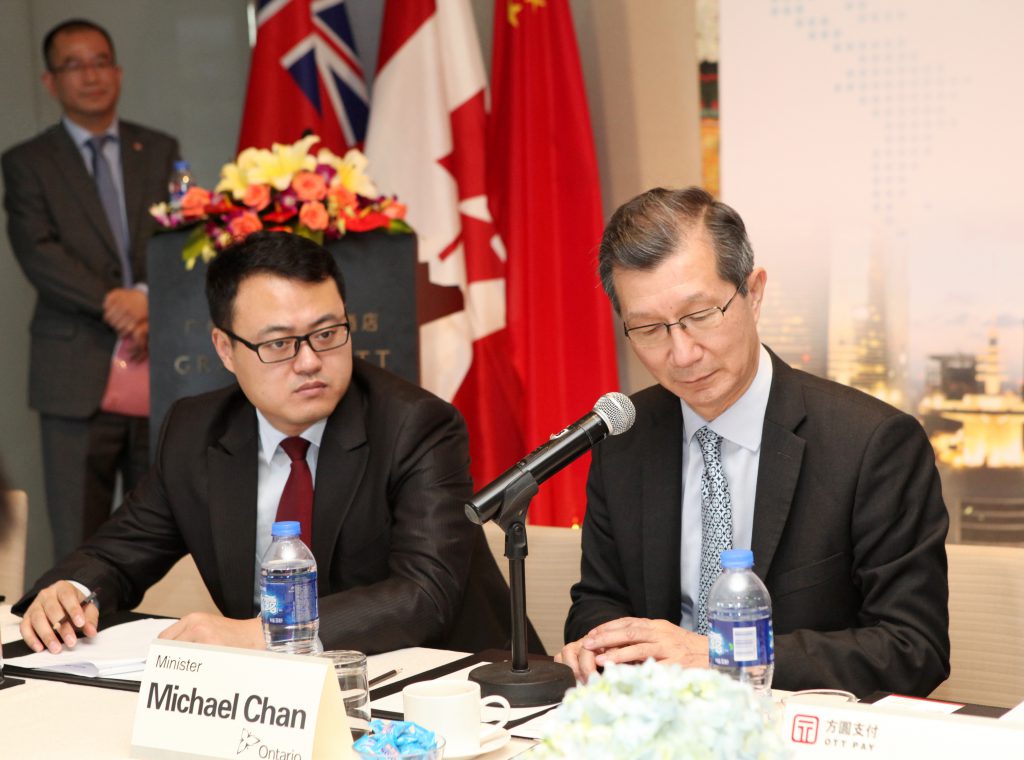 Hubert Xia (Left) & Michael Chan (Right)
Through the partnership cooperation between OTT Pay and WeChat Pay, Chinese consumers will benefit from this easy and convenient mobile payment experience in Canada. To date, WeChat Pay has been introduced to over 11 countries and territories, and it supports direct settlement in 10 kinds of foreign currencies. Canadian merchants will benefit through increased sales and a differentiated retail experience to Chinese visitors in this innovative "win-win" business model.
Alex Liu, Vice President of OTT Financial Group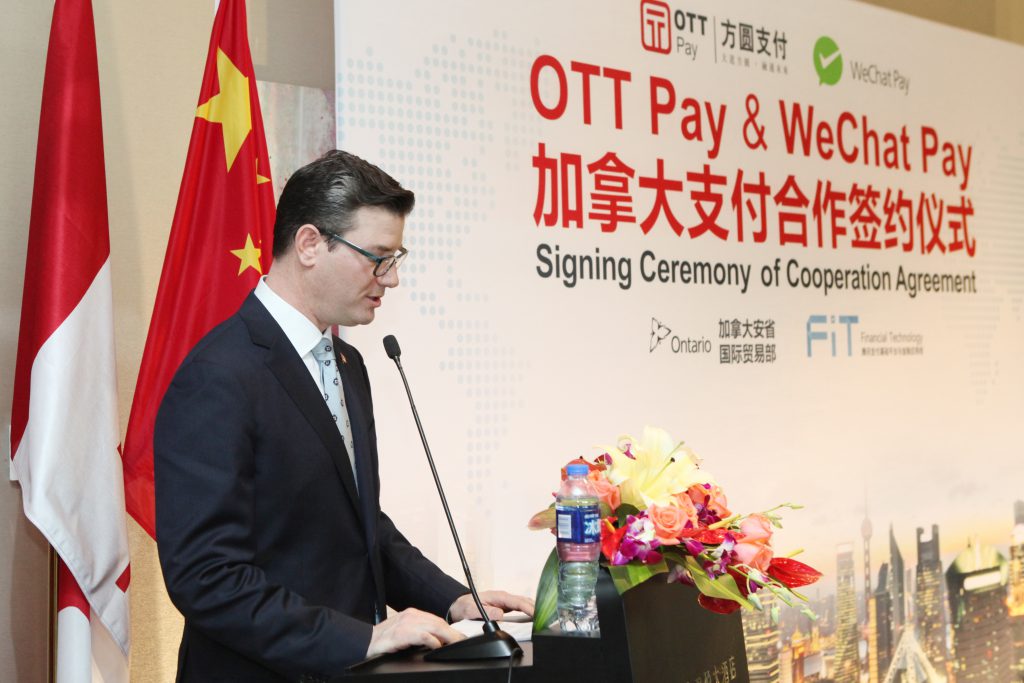 Signing Ceremony
About  OTT Group of Companies
Since 2006, members of the OTT Group of Companies have provided valuable services to their clients and their communities. OTT Financial Canada Inc. is an investment dealer and a member of IIROC and CIPF. OTT Capital Corporation is an exempt market dealer, portfolio manager and investment fund manager. OTT Financial Inc. provides foreign exchange and money transfer services. OTT Pay is the payment platform that serves Canadian merchants and Chinese consumers.

About Tencent
Tencent uses technology to enrich the lives of Internet users. Through its "Connection" strategy, the company has been cultivating a vibrant ecosystem, enabling users to communicate, socialize and enjoy content and services efficiently on its integrated platforms. Tencent's diversified services include communications, social networking, online games, advertising, digital content, payment and cloud services. Tencent is also investing heavily in cutting edge technologies such as security, cloud, big data and artificial intelligence to propel its businesses. Tencent was founded in Shenzhen in 1998 and went public on the Main Board of the Hong Kong Stock Exchange in 2004. The company seeks to evolve with the Internet by investing in innovation, providing a mutually beneficial environment for partners and staying close to users.